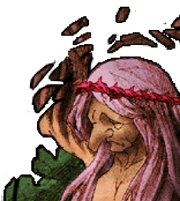 Dryads are woodland-dwelling monsters that appear in Knights in the Nightmare.

These enemies will travel through dedicated objects after performing an attack; the dryad's element will change after doing so.
Description
Edit
A giant, ancient tree infected by noxious gas. it can teleport.
   Neutral    - Lush Dryad
   Fire       - Kindling
   Ice        - Frozen Oak
   Lightning  - Storm Bark
   Sanctity   - Holy Wood
   Darkness   - Barrow Leaf

Pause Talk:Edit
"Why do you stare at me? I am no sideshow freak!"
"My roots will devour you..."
"You will not escape... Hee hee!"
"Hee hee hee... No rush. Lots of death to go around."
"You... You mock me..."
"You have trespassed on my home..."
On dying:Edit
Community content is available under
CC-BY-SA
unless otherwise noted.