The following is a quick guide on the perplexing Lost Forest Maze from Riviera: The Promised Land. The seasonal forest is a sub-stage within Nelde Ruins; this area becomes unlocked after recruiting Cierra. The gimmick here is that the player must use the vague clues on the signs as hints to go in the correct direction; if you do not decipher these hints, you very well might wander forever in this forest. The tricky part is figuring out which background color is which season. Here is the list:
Spring (Blooming Flowers) = Purple
Summer (Bright Sun) = Green
Autumn (Vivid Leaves) = Orange
Winter (White Snow) = White
It's recommended to have at least two
Trigger Points
before entering. All directions are from the beginning screen (Spring),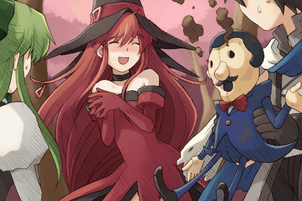 which is basically the main hub of the forest.
Aran Doll: Up, Down, Up, Down (requires TP; optional)
Ice Crest: Right, Down, Up, Down (requires TP; optional)
Escape the forest: First go Down, Right, Up, Left, and a sign will gleam. Inspect it, then go Left, Down, Up, Down, then any direction. 20,000 points are added to your score for completing this.
Four Seasons Wandering in the Lost Forest
Edit
In the GBA version, the typical Panic theme is used instead. The forest's theme was introduced in the PSP version.
Community content is available under
CC-BY-SA
unless otherwise noted.