The Awakening of the Chosen (Fleeing into the Night)


Vital statistics
Location
Valde Forest: Abandoned Church
Description
"A dilapidated church lies lonely and forgotten in the depths of the ancient forest of Valde. The ravages of time are apparent, and what little remains show that the church was built long ago..."
Both Route Knights
Johann
The castle of Aventheim is in an uproar after a mysterious woman breaks in and escapes.
While the knights are being organized to search, the thief brings her trophy, a small casket, to a dilapidated shrine in Valde Forest. When the casket is opened, a wisp of light emerges...
The Past Revisited
Edit
Johann, a new recruit, comes to an abandoned church where his fellow watchmen are hiding from the rain. But a lamia has found them first...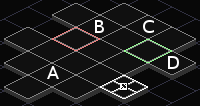 Object Information
Edit
Maria's Path
Edit
Mellia's Path
Edit
Community content is available under
CC-BY-SA
unless otherwise noted.